Digital Distillery
Visit the Digital Distillery Site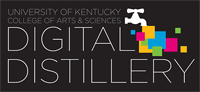 The Digital Distillery is a University of Kentucky Digital Humanities collective. Our interests are in collaborations across the Humanities that produce digital texts, archives, knowledge, and cultural artifacts. Our interests intersect and inform one another's work, and we showcase faculty and student work at the University of Kentucky.
The Digital Distillery currently houses several different projects. Please feel free to browse our archives and use information for your own research or projects. You may use resources and texts housed in the Distillery, but all usage is covered under an AttributionNonCommercial-ShareAlike Creative Commons license. See the details of this license here: 
If you would like to propose a project to be housed or facilitated by the Distillery, please fill out a project proposal form. Examples of projects to be housed at this site are public reading group blogs, multimedia (photo, audio, video) archives of various events and sites around Kentucky, community documentaries, local podcasts, and so forth.
Digital Distillery Advisory Board:
Doug Boyd
Director, Nunn Center for Oral History
Christian Ecker
Director of Computing & IT and Online Education
Bill Endres
Division of Writing, Rhetoric, and Digital Media
Randolph Hollingsworth
Assistant Provost for Undergraduate Education
Jeff Rice
Martha B. Reynolds Endowed Professor in Writing, Rhetoric and Digital Media
Co-Director, Wired
Jenny Rice
Digital Distillery Facilitator
Division of Writing, Rhetoric, and Digital Media
Matthew Wilson
Department of Geography